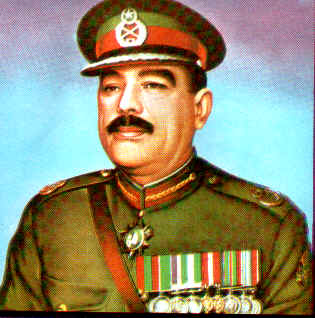 Field Marshal Muhammad Ayub Khan

Ayub Khan joined Royal Military College in Sandhurst and got commissioned in the Indian army in 1928.

After independence, he joined the Pakistan Army. In 1951 Ayub Khan was promoted to a full General and Commander-in-Chief of the army. As Commander-in-Chief he played a key role in negotiations concerning Pakistan's entry into US sponsored military alliances. He also served as the Defense Minister in Muhammad Ali Bogra's "ministry of all talents" in 1954-55.

General Ayub Khan took over the power when he removed President Iskander Mirza in October 1958. He had earlier imposed martial-law and had abrogated the constitution. Later on he gave himself the rank of Field Marshall.

During his rule, Basic Democracy was introduced along with indirect elections. The 1962 constitution also gave extraordinary powers to the President. After the imposition of the 1962 constitution, Field Marshal Ayub became the second President of the country. He won the 1965 elections, however, he could not complete his term.

During his term, the "Great Decade" was celebrated in 1968, which highlighted the development work executed during ten years of Ayub's rule. The 1965 war was fought during Ayub's term and Ayub Khan represented Pakistan in the subsequent Tashkent talks.

In November 1968, widespread protests broke out against Ayub's rule, who had to hand over power to General Yahya Khan. Ayub Khan resigned in March 1969.

.