Pakistan's missile Programmes
The strategic competition with India has spurred Pakistani efforts to acquire ballistic missiles. Pakistan's missile industry includes a large solid rocket motor production complex and a ballistic missile test facility. Pakistan's missile effort evidently consists of three components:
The short range Hatf-1 and Hatf-2, which are apparently of Pakistani design and construction, were developed by the Space and Upper Atmosphere Research Commission (SUPARCO).
The Shaheen series of solid-propellant missiles developed by the Pakistan Atomic Energy Commission (PAEC), which is also responsible for Pakistan's plutonium bomb program.
More recently, the A.Q. Khan Research Laboratories, which is also responsible for Pakistan's uranium bomb program, has tested the missile name Ghauri.
| | | | |
| --- | --- | --- | --- |
| Designation | Range | Payload | First Launch |
| Hatf-1 | 60-100 km | 500 kg | Jan 1989 |
| Hatf-2 | 280 km | 500 kg | Jan 1989 |
| Shaheen | 300 km | 500 kg | 15 April 1999 |
| Shaheen-I | 800 km | 500 kg | |
| Shaheen-II | 2,000 km | | |
| Ghauri | 1,500 km | 700 kg | 06 Apr 1998 |
| Ghauri-III | 2,500 km | | |
| Tipu | 4,000 km | | |
| Ghaznavi | ?,000 km | | |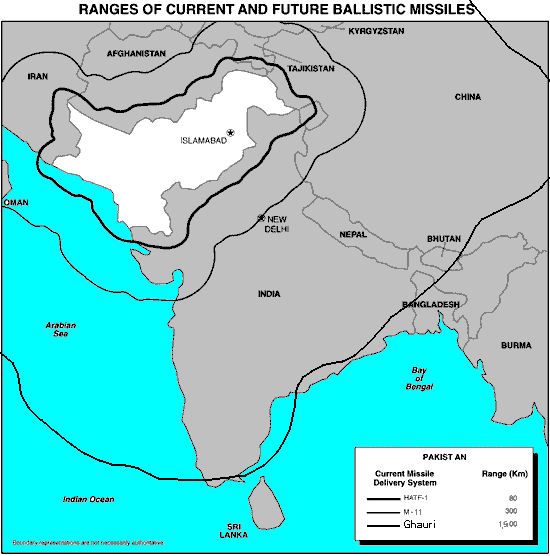 ---